Elan The Mark – Sector 106 Gurgaon
Elan the Mark, situated in Sector 106, Gurugram, is an exciting new commercial project crafted by Elan Group, a renowned real estate developer in India. This development offers diverse commercial spaces, including retail shops, office spaces, and studios. Boasting a prime location in Gurugram, it enjoys excellent connectivity to major highways and roads, facilitating convenient access from all parts of the city. Its proximity to various residential and commercial areas makes it an ideal destination for establishing a business.
Residents and tenants are treated to a host of amenities and features. The project boasts a fully-equipped clubhouse, beautifully landscaped gardens, a refreshing swimming pool, and a well-equipped gymnasium.
Additionally, a comprehensive security system ensures all occupants' safety and peace of mind. It fits the bill perfectly for those seeking a lucrative investment opportunity in Gurugram's commercial real estate. With its prime location, an array of amenities, and the credibility of the esteemed Elan brand, investors can confidently seize this opportunity.
Elan The Mark sets a new benchmark in commercial development, offering an unparalleled fusion of spaciousness, size, and international conveniences. The building incorporates KIOSKs throughout each retail and office element, maximizing the potential of every space. This commercial project in Gurgaon epitomizes high-street retail, office spaces, and studios for the modern age.
India has witnessed the establishment of numerous commercial hubs across major metropolises, attracting substantial audiences. Real estate companies are thus striving to introduce futuristic projects to cater to business needs.
With decades of experience delivering quality projects with innovative structures, Elan Group has forged a remarkable reputation in the commercial real estate market. The company consistently focuses on implementing new features and designing developments from a buyer-centric perspective, connecting people with an intelligent environment.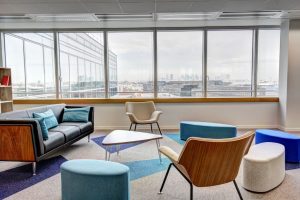 Elan the Mark Dwarka Expressway Gurgaon
Fully customizable lofts are available in 1- and 2-bedroom configurations.
A super area nearly equivalent to the carpet area, maximizing usable space.
Separate parking and a designated drop-off zone for convenience.
Unveiling a unique concept with top-notch amenities adhering to international standards.
Benefit from a guaranteed rental rate of INR 60 per square foot.
Enjoy the security of assured rental until possession.
Exclusive double-height 19-foot service apartments leased to Aloft, a renowned international hospitality service.
Experience the excellence of a 5-star hospitality brand
Renewable leasing guarantee for long-term peace of mind.
Awe-inspiring triple-height lobby featuring 4+1 elevators.
Multiplex, restaurants, and retail outlets are conveniently located within the premises.
Elan the Mark 106 Gurgaon – Location Overview
It occupies a prime location in Elan Sector 106, Gurugram, renowned for its well-developed infrastructure and seamless connectivity. The project enjoys proximity to major highways and roads, ensuring easy access from all corners of Gurugram. Additionally, it is situated near vibrant residential and commercial hubs, making it an ideal destination for establishing a thriving business.
Connectivity Advantages:
Strategic highway and road accessibility:
It benefits from its proximity to major highways and roads, guaranteeing effortless connectivity throughout Gurugram. Its convenient proximity to the Dwarka Expressway is particularly noteworthy, facilitating swift access to Delhi and other regions within the NCR.
Adjacent residential and commercial areas:
The project is strategically nestled amidst burgeoning residential and commercial areas, further enhancing its appeal as an ideal business hub. Surrounded by a growing residential community with excellent connectivity, this commercial project in Gurgaon stands as the epitome of modern high-street retail, office spaces, and studios.
Unparalleled connectivity:
It boasts exceptional connectivity to various parts of Gurugram and Delhi, and its proximity to a metro station ensures effortless access to different city areas. Moreover, being near the airport, travelling to domestic and international destinations becomes remarkably convenient.
The project is situated in a well-developed area with outstanding amenities and facilities. Residents and occupants enjoy easy access to schools, hospitals, banks, and other essential services. Furthermore, numerous parks and green spaces foster a serene environment, contributing to an enhanced quality of life.