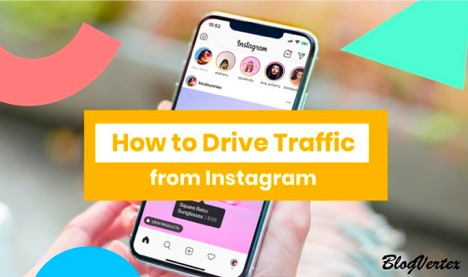 If you want to drive traffic to your website, Instagram is not necessarily the simplest social network compared to Facebook and Twitter. Fortunately, Instagram Stories offer new methods for brands to get key page visits from their engaged subscribers.
The idea will be for you to make the most of the link already present in your Instagram biography and especially to benefit from the traffic generation opportunities offered to accounts with more than 10,000 subscribers.
1) Add a clickable link to generate traffic to the site
If your account is verified or you have 10,000 subscribers associated with a professional profile, you can simply add a link to redirect viewers to your Story.
This option appears on the production screen of your content as below:

On the user's side, they will see an option located at the bottom of the "See more" story encouraging them to go to a web page external to Instagram.
Adding a link in Instagram Stories is even more effective than in classic publication captions as it allows you to use photos, videos and designs to maximize traffic generation to the chosen page.
Sometimes the text "See more" is not necessarily very visible and it can be interesting to use the features of creation of a Story in order to make this call to action more visible.
If you want to quickly reach this level of followers, I can explain to you during an Instagram training the different levers at your disposal to get there.
2) Identify your own profile to generate traffic with Instagram Stories
Unfortunately, if you have fewer than 10,000 subscribers, Instagram will not allow you to add links in your Stories, and you will be limited to the single link in your biography.
That being said, there is a little-known trick to work around this limitation. No matter how many subscribers you have, you can identify users in the Stories, including your own account.
Instagram will automatically connect to your profile in the Story, which will create a clickable link to your biography.
How does this help you generate more traffic?
In your Instagram Stories, you can promote a product, a blog article, a white paper or other, and associate this with a text such as "Visit our profile link for more information"
Then, promote your username as seen above, for example by drawing arrows towards it to encourage action by the viewer.
There is a good chance that some of your subscribers will be inclined to visit your profile and then click on the link to your biography, if you have explained their interest to them beforehand.
3) Use stories in the headlines to constantly generate traffic
With Featured Stories, you can create permanent collections of Stories that will live on your Instagram profile.
Not only is this type of Stories a great method to share your creative side and highlight your products, they are also interesting for generating traffic.
These featured Stories, if you didn't know, appear right below your biography and above your flow of classic posts, and will work as a permanent Story.
So, concretely, how do Stories in the News make it possible to generate more traffic to your website?
Whether you have more or less than 10,000 subscribers, you can use the techniques previously seen in 1) & 2) to encourage spectators to take action: in the first case, the click will redirect to the correct page, in the second case, it will be necessary to ensure that the biography link takes the user to a page where he will find the additional information promoted in the Stories in the headlines.
4) Collaborate with influencers to drive traffic with Instagram Stories
A great way to gain Instagram followers UK and drive traffic to Instagram Stories is to collaborate with influencers. The promotion of your brand, products & services will be carried out during an account takeover or a "guest publication" in the Stories.
Ideally, choose a person with more than 10,000 subscribers to take advantage of the clickable link addition feature in the Stories.
Influencer marketing on Instagram is today extremely common and has developed at a rapid pace since the appearance of Stories on the social network.
You could work with influencers to promote your products, services, mention you, and link to the web page of your choice.
If you do not have the budget to set up a partnership with a great influencer, try to find one or more micro-influencer (s) and ask them if they would be inclined to promote in exchange for the products / services offered. .
5) Generate traffic with ads in Instagram Stories
When you think you're running out of organic (free) options, there's always the option of running ad campaigns. If you are just starting out with sponsored actions, I invite you to consult my article on Instagram advertising.
Some tips for successful advertising in Instagram Stories
1) Make sure you send traffic to a site optimized for mobile: almost all Instagram users consume the Stories from their smartphone, which requires that your sponsored page must be easily consumable on mobile.
2) Perform multiple tests: analyze the performance of the different sponsored visuals to find out which one or those has the best click-through rates.
3) Measure conversions: observe the path of users to know to what extent clicks on advertisements have resulted in action by them.
In conclusion
The possibility for users & brands to be able to generate traffic thanks to Instagram Stories has completely changed the situation: where we had to be satisfied with the unique link in the biography in past years, it is now possible to generate visits to specific pages who can promote our products / services or blog articles. If your website or blog is having informational and high-quality content, the visitors driven from Instagram may possibly refer your blog to their friends. Hence, you will get more visits to your site and get benefit ultimately.