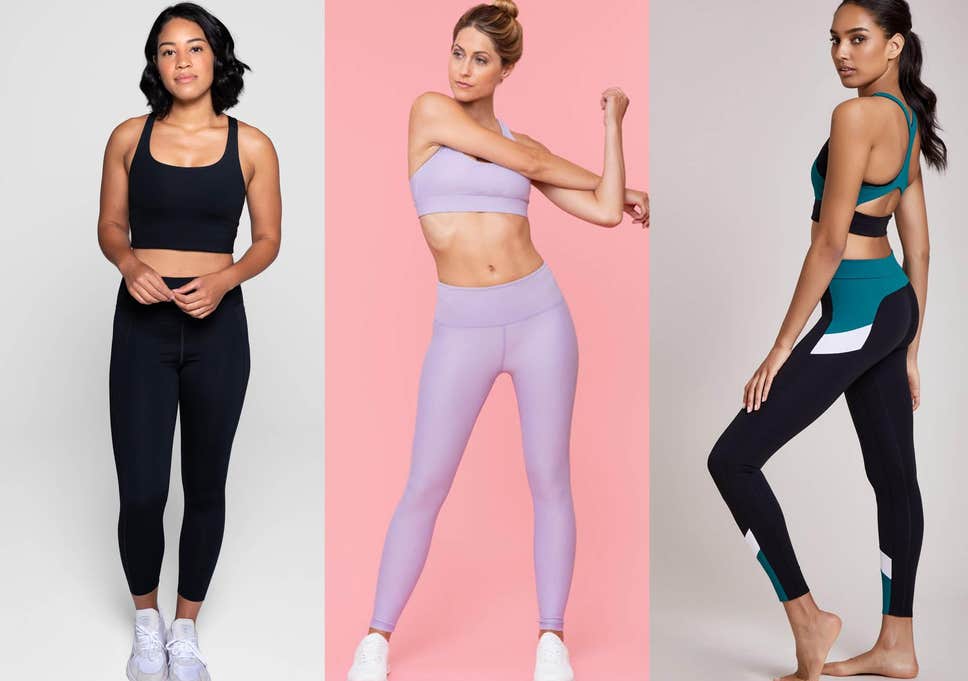 It is not easy to focus on your exercise when your clothes are not comfortable. Most people do not know what kind of clothes are suitable for regular exercise or gym workout. Here, in this article, we are going to share some tips and tricks that will help you to choose the right style of gym gear so that you can focus on workout: 
1.Pants With Tight Curved Stitching 
If you want to do squats, then you should pay special attention to the quality of the fabric of your leading and its stitching as well. While doing quats, you can wear shorts, cropped pants, and leggings as well. 
The right stitching will let you do your legs exercise without any problem. You should pick legging made up of polyester. Also, check the quality of stitching. If you want to have good quality custom yoga pants, then contact the renowned professionals. 
2. Compression Spandex For Lower Body 
If you feel insecure about your lower body, then you should invest in dark color compression spandex. Also, various fitness pants are integrated will compression spandex. This will help to make your hips, buts, lower abdomen and thighs slim. 
That means you do not need to worry about your lower body. You can easily focus on the workout in your gym. , which can boost your confidence and help you focus on the workout. If you want to spend a good time on the treadmill and make your regular workout valuable, then wear compression spandex.  
3. Wear Underwire Sports Bras
You should always wear a sports bra while doing aerobic exercise. It will make you feel comfortable while jumping, running or doing any other physical activity during aerobic exercise. The right choice of sports bra will let you do your workout without any problem. You should pay special attention to comfort and stitching as well. 
4. Do Not Wear Bright Pattern That Needs To Be Hide 
Most people feel tempted to bright-colored gym clothing. The bright pattern is good but not good for troubled spots. Sometimes, the printed pattern highlights those areas of your body that you do not want to be highlighted.  
Usually, people avoid tight clothing because they do not want to show off. But, if you pick black colored and tight gym workout gear, then they will look perfect. They will enhance your good figure while doing the workout. 
5. Wear High-Waisted Elastic 
Sit-ups and stretches are very important before doing rigorous exercise to avoid muscle pull. While doing stretches, you want to hide your fatty mid-belly, then it is recommended to wear legging with high waisted elastic. High waisted pants are perfect for all size women, especially with a large mid-belly. 
It will help in finding the lower belly pooch. They are various options when it comes to high wasted pants. You can also customize these pants by printing your favorite design on them. You just need to hire the right painting professionals so that you get your good quality custom design leggings. 
6. Avoid Cropped Pants 
If you want to make your legs appear longer, then you should not wear cropped panty. It is recommended to wear tight and full-length pants. If you already have long legs, then you can go for cropped pants. 
The cropped pants are nit at suitable for people with short legs. You can make your full-length legging stylish by printing the attractive design on it. 
7. Universal Workout Clothing 
If you are busy in your daily schedule and do not have enough time to plan your workout clothing, then it is good to go with universal flattering workout gear. If you choose universal workout clothing, then you do not need to worry about what you packed in your gym bag. 
You must pack high-waisted and full-length legging. This legging will make your thighs look slim and also elongate your body. You can pair your custom fit leggings with a cute top and wear a sports bra for comfort. 
8. Wear A Motivating Tee 
We should properly focus on our workout so that we can get the desired results. When you are going to the gym for a workout, then you should not wear to impress. Your gym gear should be comfortable so that you can pay complete attention to your exercise. 
You can also wear a motivate tee so that whenever you look at your t-shirt in the mirror, you should feel motivated.  Whatever you wear that should be motivating and comfortable. Tees with motivational quotes for gym workout will make you feel happy. 
A white t-shirt with a motivation quote printed with black color will look perfect with your black colored yoga pants. This is a perfect combination for a gym workout. Do not forget to wear good shoes as well.