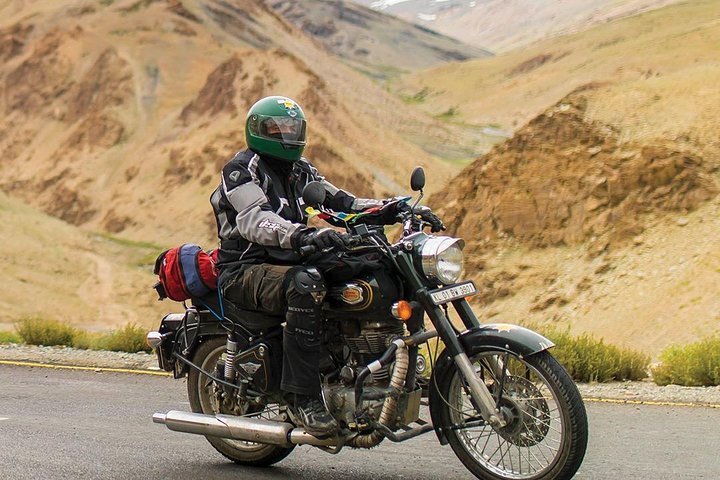 Leh Ladakh is one of those astonishing places full of natural wonders. The beauty and serenity of Ladakh cannot be described in words. Ladakh which literally means "Land of High Passes" houses some of the highest passes of the world. Every year thousands of tourists come to visit Ladakh which is highly famous for its picturesque landscapes, majestic mountains, distinctive culture, and thrilling activities. When we talk of thrilling activities Ladakh Biking is one of them. Traveling to Ladakh by bike is quite popular among youngsters and adventure enthusiasts. For some biking to Leh Ladakh forms their dream trip and is one of the top activities on their bucket list.
Most Read : Religious communities of Leh Ladakh
Best Time to Visit Ladakh
When we talk about the best time to visit Ladakh it is about the climate and whether the roads and passes are open for travelers. Ladakh can be visited in both the summer and winter seasons. Some prefer traveling to Ladakh in winter as it snows there and trekking on a frozen lake is possible only during winters, but due to snow most of the roads and passes are closed so biking is not an option during winters. When we talk about the bike trip to Leh Ladakh the best time is between the month of June-September as the climate is pleasant and most of the roads and passes are open making the journey hassle-free. So if you are planning the trip to Ladakh via bike plan it between these months.
How much shall the trip cost you  
Your expenditure on the trip depends upon the type of bike you choose for the trip, also depends upon the type of accommodation you choose to stay, your food preferences, number of sites you wish to visit. If we talk of an average budget for Leh Ladakh bike trip it comes somewhere around INR35000, which includes the permit expense and other miscellaneous expenses.
Which Bike to opt for Leh Ladakh Bike Tour
The choice of the bike during the Ladakh bike trip does make a difference as the roads are not that smoot you might have to ride on rough terrains so the condition and other technical factors are important for the smooth journey. Things to consider before finalizing the bike
Condition of the bike is an important factor as you should be sure there is no issue with the bike or whether it needs to be taken for servicing before commencing the journey.
You should also see if you can carry luggage on the bike and if not go for a bike which provides you with luggage space.
While choosing the bike instead of popularity the sustainability of the bike should be the main focus.
Some popular choices of bike for Ladakh Trip
Royal Enfield Himalayan
Royal Enfield
KTM Duke
Bajaj Pulsar
CBR 250
Yamaha
Preferred routes for Leh-Ladakh Bike Tour
 You can undertake your Ladakh Bike journey through the following routes
From Srinagar to Leh
From Delhi to Leh
From Manali to Leh
ADVISORY
Trip to Ladakh is a once in a lifetime experience, you surely would have the best experience of your life in Ladakh this is the reason Ladakh is popular not only with the domestic tourist but also many foreigners visit this place every year. But before you get lost in the breathtaking landscape and glistering lakes of this place there are certain things you should know about before making your journey.
Leh Ladakh is situated on the high altitude, you may experience altitude sickness due to lack of oxygen, so it is advised not to indulge yourself in too much of physical activity, which may leave you gasping for breath. While you reach Ladakh on the first day it advised not to go anywhere and you must first accustom yourself to its climate. And you should keep yourself hydrated throughout the journey.
And always remember while in Ladakh or at any other tourist destination you must try to keep the beauty of that place intact. So it becomes your duty to keep the surroundings clean do not throw plastic or any kind of waste that pollutes its environment. And if you are going in a group tour make sure you follow the instructions of your team leader.