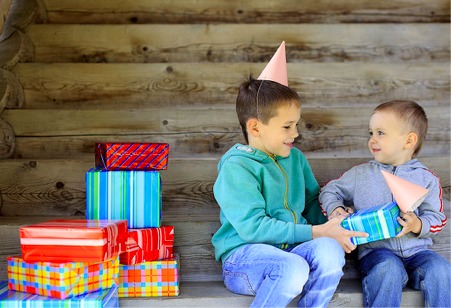 Why are return gifts important?
To put things in short, a return gift can be referred to a hearty token of appreciation presented to the guests of a party who graced the occasion with their presence, blessings and congratulations note. It is a type of thank you note that you present to your guests to make the occasion a memorable one from both sides. 
And this is one of the reasons why return gifts are considered very important. For instance, if you are attending a marriage party, you may buy return gifts that are beneficial to the guests, probably a photo-frame, dresses, or something either of the bride or groom loves. And in case of a kid's birthday party, you need to shop differently, you need to look at things that are going to be either fun or useful for the kid. So, this is how choosing return gifts look like. 
And like normal gifts, choosing a return gift becomes somewhat complicated too. The kinds of stuff included in return gifts for boys may differ greatly from those of girls. So, you need to be careful about what to buy and whatnot.  
What can be an ideal return gift for boys?
It's pretty easy to say that boys have a very different taste than girls. They need something tough and playful, they need something that attracts their taste, they feel the need for something which could be useful to them in a long run, and so choosing gifts according to such needs can be pretty difficult at times.
Here are a few ideas for return gifts for boysthat would help you narrow down your search for the proper gift. 
Puzzles or brain teasers – what could be more benefitting for a boy than to improve their memory and problem-solving skills. Often from a young age, they are taught to be active and smart in their thinking, and gifts like a Rubik's cube or a Tangram can be the best possible return gift. 
Video games – if you are thinking of buying a return gift for a kid's birthday, then a video game might be the best one. Accept it, boys love to play games. It doesn't have to be the big expensive ones, but even a compact video game is more than enough to get them excited beyond imagination. 
Board games – this is another type of gift which would serve as good return gifts for boys.Board games help build competitive spirit, teamwork, coordination, and goal choosing, so gifting board games like Scrabble, Ludo, Monopoly, etc. works the best. 
Flintobox – this is considered to be the perfect return gift for boys of all ages. A Flintobox carries a range of activities that include puzzles, storybooks or DIY that boys of any age can put to use. They help in improving a range of skills that are essential in proper development. 
Importance of return gifts in an occasion
Handing out and receiving gifts in a party or gathering is somewhat considered to be an important custom. Almost every people are seen carrying a gift or two when they visit other's party. Gifts are said to be a sign of good wishes to any occasion coming up from the guests themselves. 
Now the important thought comes when you are about to choose a gift for particular occasions. Some stuff can be gifted during any occasion and some are highly selective to the type of occasion one is being invited to. Sometimes you have to choose different return gifts for boysand girls. And this is where things go complicated with all the thinking and brainstorming that one requires to put just to buy a gift.