Biography Of Vinod Khanna:
Vinod Khanna was an Indian actor as well as a film producer. He was an active politician also. He earned so much name and fame in Indian film industry through his acting. He played all kinds of roles like negative role, as a supporting actor and a lead hero.
Early Life: 
Vinod Khanna was born on 9th October 1946 in Peshawar, Punjab (now in Pakistan). He belongs to a Punjabi family. His parent's name was Kishanchand Khanna and Kamla Khanna. His father was a textile, dye and chemical businessman.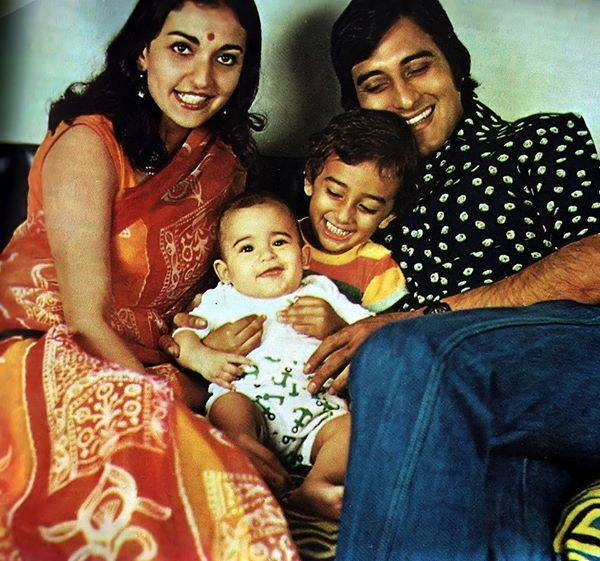 He had 4 siblings, 3 sisters, and 1 brother. His family had to migrate from Peshawar to Mumbai after the partition of India and Pakistan. He did his schooling initially in St. mary's school, Mumbai until class 2nd. Then He transferred to St. Xavier's School Delhi and after that, he did his schooling in Delhi public School, Mathura Road when his family moved to Delhi in 1957. But in 1960 family had to leave Delhi and again had to live in Mumbai. Khanna had to join Barnes School, Nasik. He wanted to do Engineering but his father wanted to join commerce college so that he could help him in his business. So Vinod Khanna had to join Sydenham College, Mumbai. He had no interest in commerce so he moved to other activities like theater. During his boarding school time, he spared most of his time in watching epics like Solva Sal and Mughal-e-Azam and he was attracted towards the motion pictures and wanted to run his career in acting. When he announced his desire about acting to his family, his father protested him and threatened him by pointing the gun at him. but after the efforts of his mother, his father convinced and gave him a time of 2 years. and told him if he was failed in this 2 years he had to join his business. but desires never end and hard work proved the success. Vinod Khanna completed his dream by his effort and hard work.
Bollywood Career:
Vinod Khanna had to play negative roles and supporting roles initially.His first film was Man Ka Meet in1968 in which Som Dutt was lead Hero and he played the role of villain.  He worked in Purab and Paschim, Aan Milo Sajna, Sacha Jutha and Mastana in 1970 and Mera Gaon Mera Desh, Elaan in 1971. He got his first break as a lead hero in the year 1971 In the film- Hum Tum Or Woh. which proved successful it was followed by the multi starer movie mere Apne in 1971. In 1973 he played a  role of Navy officer In Achanak which was very appreciated by people. After acting in Parchaiyan in 1973 he became famous as a romantic hero and got many offers for romantic movies also. He played many films as a lead hero like Farebi, Hatyara, Qaid, Zalim, Inkaar, Gaddar, Aap ki Khatir, Rajmahal, Main tulsi Tere Angan Ki, Adha Din Adhi Raat, Khoon Ki Pukar, Shak, Aarop, Takat, Jail Yatra, Qurbani.   He acted in Many multi starrer movies named Shankar Shambu, Chor Sipahi, Ek or Ek gyarah with Shashi Kapoor. Kudrat, Rajput and Prem Kahani with Rajesh Khanna. Hera Pheri, khoon pasina, Amar, Akbar Anthony and Mukaddar ka Sikander with Amitabh Bacchan.  He did many movies with other actors like Randheer Kapoor, Jeetendra, And Dharmendra. In 1980 he did the movie Qurbani which was rejected by Amitabh Bachan . This movie created a history in Khanna's life and became the highest earning movie of that year.He did many films till 1982. But later on, he was greatly impressed by the spiritual Teacher Osho and left his career for 5 years. He returned in 1987 with his movie Insaf with Dimple Kapadia. He did then Zurm and Chandni and played a romantic role. In 1990's he did many films named Muqaddar ka Badshah, rihaee, CID, Lekin, Hamshakal, EEna, Meena Deeka, Shatriya, Insaniyat ka Devta, Dayawan, Nischay, Himalaya putra, Surya, Karnama etc.
He got Filmfare life time achievement awards for his contribution to Indian cinema over three decades. After that He did small roles in some movies like Deewanapan, Wanted, Dabangg, pehchan, Risk, Dilwale etc.
Political career of Vinod Khanna: 
In 1997 Vinod Khanna took steps in politics. He joined the Bharatiya Janata Party and won the election of Loksabha in Gurdaspur constituency in Punjab. In July 2002 he was elected as a union minister for culture and tourism and then he became the minister of External of affairs after six months. In 2004 he again elected in Gurdaspur but had to face defeat in 2009. but again he won the election from the same constituency in 2014. He was an active politician till death.
Personal Life Of Vinod Khanna: 
Vinod Khanna married to a girl named Geetanjali, he had met her in the college time. He married to Geetanjali in 1971 and the couple had two children named Akshay Khanna and Rahul Khanna. Both became Bollywood actors. In 1975 he became the disciple of spiritual leader Osho and was attracted towards him. in 1982 when his career was in peak he decided to left his family and career and went to Osho's US  ashram Rajneeshpuram and became the sanyasi. This decision made a big conflict between him and his wife and she divorced him in 1985. After five years when he back home, he again started work in Indian Cinema. In 1990 he met with Kavita Daftary at a party and had affair between them. Kavita Daftary was a businesswoman who handles her father's business and 16 years younger than Vinod Khanna. yet they decided to be together and married each other on 15 may 1990. From this marriage, Vinod Khanna had two children named Sakshi Khanna and Shraddha Khanna. He always supported his children in their career.
Death & Illness: 
Vinod Khanna was suffering from the bladder cancer. He was hospitalized to HN Reliance foundation and Research Centre In Girgaon Mumbai. After a few weeks in the hospital, he died on 27th April 2017 in a hospital.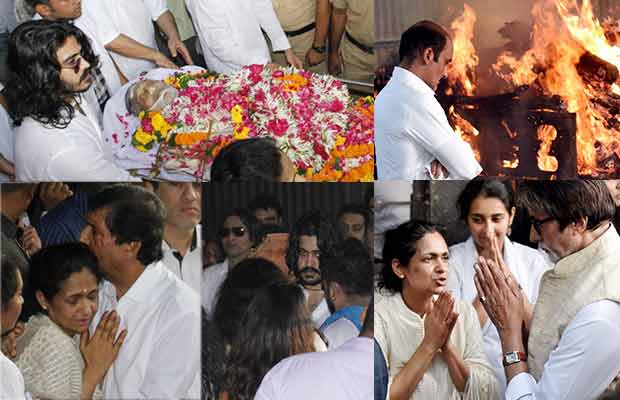 Vinod Khanna was a rare actor of Indian film industry who has done so many movies. He was a handsome villain those times. It was said that if he didn't leave his career in 1982 and went to Osho's ashram then he was more popular than Amitabh Bachchan at those times. He had to become a gardener, had to clean toilets and dishes in Osho's ashram. His nickname was Sexy Sanyasi at those times. Really he was an amazing actor and was always remembered for his acting and different roles. May God Peace his soul rest!