Biography of Dharmendra Deol
Dharmendra Deol was the dream of many Indian girls at his time. Dharmendra is the legendary hero in India Cinema or Bollywood City. He has served so many movies that no one can forget his name in the Indian History. He is the person who has played various roles such as romantic, action, drama and so one. Dharmendra Deol has created a history through his real life acting, he-man kind body physique, warm smiles and timely dialogue delivery. He is also known as "Garam-Dharam" because of his nature. He had worked in approx. 288 Indian Movies and broke all the records of acting. Words will be less to praise his work and contribution.
Let's have a study about his life history:-
Early Life: –
Dharmendra Deol's original name is "Dharam Singh Deol" and born to the Jat Sikh family on 8th December 1935 in Phagwara Village of Kapurthala District, Punjab. His Father name was "Kewal Kishen Singh Deol" (School Headmaster) and his mother name was "Satwant Kaur". He has his one brother named "Ajeet Deol". He spent his early life in the village- Sahnewal and studied in the Government senior Secondary school at Lalton Kalan, Ludhiana. His intermediate was done from Ramgarhia College, Phagwara in 1952. He was good in the study but he was fond of the movies from his early age. He won the film fare contest and came to Mumbai to make his career in Hindi Cinema.
Family Life: –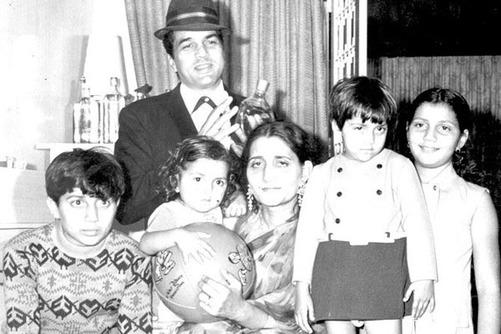 His married life was started at the very early age when he was of 19. He was married to a girl named "Prakash Kaur" in 1954. From her, he had four kids- 2 boys and 2 girls. 2 boys are known as famous heroes with the name of "Sunny Deol" and "Bobby Deol". His daughter's names are "Vijeeta Deol" and "Ajeeta Deol". While working in Indian Cinema, the news was got highlighted of his affairs with Indian co-actresses 'Meena Kumari", "Saira Banu" and "Hema Malini". While working in Sholay, he fell in love with Hema Malini. "Hema Malini was his final crush and he wanted to marry her, but as per Indian Marriage law, he cannot marry another woman without divorcing the first wife. He had already had 4 kids from his first wife so his wife refused him to give divorce. So he converted his region to 'Islam" in 21st August 1979 just to marry "Hema Malini".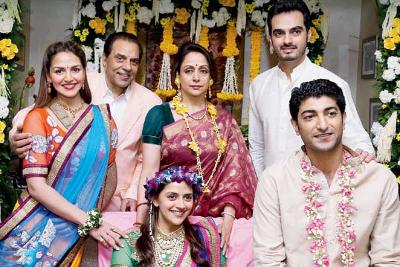 He then married to "Hema Malini' at 2nd May 1980. From her, he has two beautiful daughters named "Esha Deol" and "Ahana Deol". Esha Deol also worked in Hindi Cinema for some time, but after marriage, we have not seen her in movies. Ahana Deol is a Great dancer. He had four grandsons named Karan, Rajvir, Aryaman, and Dharam.
Hobbies: –
He was quite fond of Shayaries and loves to write. Apart from this, he was well known for his fitness and exercising activities.
Bollywood Life: –
He was known as the most handsome movies actor in the Indian Cinema at his peak time. He has been nominated for various film fare awards and known as the best actor for his splendid contribution. He has played romantic roles in 1960-1967 when he became the heroine-centric hero but later, he was given roles of action hero.  His best portray was came out from the movie Sholay dialogue of which are still remembered. His best chemistry was with "Aasha Parekh" with whom he has given 5 hits movie. He has given his 35 hit shots with his favorite co-star cum wife "Hema Malini". He has worked with almost all the leading heroines of his time like Nutan, Meena Kumari, Mala, Sharmila, Rekha and made a repo as "romantic and Solo action star. He was the highest paid actor in his time. He had worked with the leading director and producers like Bimal Roy, Yash Chopra, Raj Khosla, Ramesh Sippy, Rajkumar Santoshi, Hrishikesh Mukherjee, Raghunath Jalani, and Basu Chatterji.  "Amitabh Bachchan" was his favorite co-star and one of the best friends. He always treats him as his younger brother. He has worked with the other heroes like Vinod Khanna, Jitendra, Sanjeev Kapoor, Akshay Kumar, Salman Khan, Vinod Mehra, etc. In 1983, he launched his own production company and launched his elder son "Sunny Deol" as the hero in "Betaab". Then later launched his second son 'Bobby Deol" in 1995 in "Barsaat" and his nephew 'Abhay Deol" in 2005 in "Socha Na Tha". He was not having good thoughts about the film industry for females. He did not want her daughter Esha Deol to work in Movies but it was Hema Malini who supported her to join her dreams.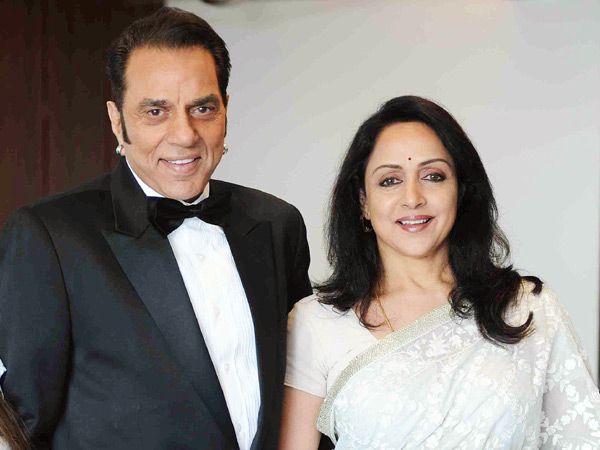 Movies:-
Second Hand Husband (2015), Singh Saab The Great, Yamla Pagla Deewana 2 (2013), Tell Me O Kkhuda (2011), Yamla Pagla Deewana, Apne, Life in a Metro (2007), Hum Kaun Hai, Kis Kis Ki Kismat (2004), Kaise Kahoon Ke Pyaar Hai (2003), Reshma aur Sultaan (2002), Aaj Ka Gunda, Galiyon Ka Badshah, Istam, Jagira, Shirdi Sai Baba (2001), Bhai Thakur, Jallad No. 1, Kaali Ki Saugandh, Meri Jung Ka Elaan, Pathar Aur Payal, Sultaan, The Revenge (2000) Loh Purush, Munnibai, Nyaydaata (1999), Barsaat Ki Raat, Pyar Kiya Tho Darna Kya, Sherkhan, Zulm O Sitam (1998), Dharma Karma, Gundagardi, Jeeo Shaan Se, Loha (1997), Aatank,  Himmatvar, Mafia, Return of Jewel Thief, Smuggler (1996), Aazmayish, Fauji, Hum Sab Chor Hain, Maidan E Jung, Policewala Gunda, Taaqat, Veer (1995) Juaari, Maha Shaktishaali, Paappi Devataa (1994) Kshatriya, Kundan (1993) Humlaa, Kal Ki Awaz, Khule Aam, Tehelka, Virodhi, Waqt Ka Badshah, Zulm Ki Hukumat (1992),  Dushman Devta,  Farishtay, Toofan, Kohraam, Koun Kare Kurbanie, Mast Kalandar, Paap Ki Aandhi, Trinetra (1991), Humse Na Takrana, Nakabandi, Pyar Ka Karz,  Qurbani Jatt Di, Sher Dil, Veeru Dada (1990), Batwara, Elaan E Jung, Hathyar, Ilaaka, Kasam Suhaag Ki, Nafrat Ki Aandhi, Sachai Ki Taqat, Shehzaade, Sikka, Vardi (1989), Akhri Muqabla, Ganga Tere Desh Mein, Khatron Ke Khiladi, Mahaveera, Agha Mardon Wali Baat, Paap Ko Jalaa Kar Raakh Kar Doonga, Saazish, Sone Pe Suhaaga, Soorma Bhopali , Zalzala (1988), Aag Hi Aag, Dadagiri, Hukumat, Insaf Ki Pukar, Insaniyat Ke Dushman, Jaan Hatheli Pe, Loha, Mard Ki Zabaan, Mera Karam Mera Dharam, Superman, Watan Ke Rakhwale (1987), Main Balwan, Mohabbat Ki Kasam, Sajna Sath Nibhana, Saveray Wali Gaadi, Sultanat (1986), Ghulami, Karishma Kudrat Kaa, Sitamgar (1985), Babi Baazi, Dharam Aur Kanoon, Insaaf Kaun Karega, Jagir, Jeene Nahi Doonga, Jhutha Sach, Raaj Tilak, Sunny, The Gold Medal (1984), Kanoon, Jaani Dost, Naukar Biwi Ka, Qayamat, Razia Sultan (1983), Badle Ki Aag, Baghavat, Do Dishayen, Ghazab, Main Intequam Loonga, Meharbaani, Rajput, Samraat (1982), Teesri Aankh, Aas Paas, Katilon Ke Kaatil, Khuda Kasam,  Krodhi, Naseeb, Professor Pyarelal, Alibaba Aur 40 Chor, Chunaoti, Insaf Ka Tarazu, Balram, The Burning Train (1980), Cinema Cinema, Dil Kaa Heera, Kartavya (1979), Azaad, Dillagi, Phandebaaz, Shalimar (1978), Chacha Bhatija, Charandas, Dharam Veer, Do Chehere, Do Sholay, Dream Girl,  Khel Khilari Ka, Kinara, Mit Jayenge Mitane Wale, Swami, Tinku (1977), Charas, Maa (1976), Apne Dushman, Chaitali, Chupke Chupke, Dhoti Lota Aur Chowpatty, Ek Mahal Ho Sapno Ka, Kahte Hain Mujhko Raja, Pratiggya, Saazish, Sholay (1975), Dost, International Crook, Kunwara Baap, Patthar Aur Payal, Pocketmaar, Resham Ki Dori (1974), Black Mail, Jheel Ke Us Paar, Jugnu, Jwar Bhata, Kahani Kismat Ki, Keemat, Rekha Loafer, Phagun, Yaadon Ki Baaraat (1973), Anokha Milan, Do Chor, Jaban, Lalkaar, Raja Jani, Malini Samadhi, Seeta Aur Geeta (1972), Guddi, Mera Gaon Mera Desh, Naya Zamana, Rakhwala (1971), Ishq Par Zor Nahin, Jeevan Mrityu, Kab Kyoon Aur Kahan, Man Ki Aankhen, Mera Naam Joker, Sharafat, Tum Haseen Main Jawaan (1970), Aadmi Aur Insaan, Aya Sawan Jhoom Ke, Khamoshi, Pyar Hi Pyar, Satyakam, Yakeen (1969), Ankhen, Baazi, Baharon Ki Manzil, Izzat, Mere Hamdam Mere Dost,  Shikar (1968), Chandan Ka Palna, Dulhan Ek Raat Ki, Ghar Ka Chirag, Bhattacharya Jab Yaad Kisi Ki Aati Hai, Majhli Didi, Paadi (1967), Aaye Din Bahar Ke, Anupama, Baharen Phir Bhi Aayengi, Devar, Dil Ne Phir Yaad Kiya, Mamta, Mohabbat Zindagi Hai, Phool Aur Patthar (1966), Akashdeep, Mehmood Chand Aur Suraj, Kaajal, Aakash, Purnima (1965), Aap Ki Parchhaiyan, Ayee Milan Ki Bela, Ganga Ki Lahren, Haqeeqat, Main Bhi Ladki Hoon, Mera Qasoor Kya Hai, Pooja Ke Phool (1964),  Bandini, Begaana (1963), Anpadh, Shaadi, Soorat Aur Seerat (1962), Boy Friend, Shola Aur Shabnam (1961) Dil Bhi Tera Hum Bhi Tere, Johnny Gaddaar (1960)
Political Career: – 
Presently he is contributing the political area as the member of the 14th Lok Sabha of India. As a successful politician, he represents the Bikaner constituency of Rajasthan and is a member of the Bhartiya Janata Party (BJP) Political party. He joined the political career in 2004 when he was elected as the Member of Parliament. While contributing in this, he also made come back with the random Indian Movies.
Awards:-
National Film Award (1991)
Filmfare Lifetime Achievement Award (1997)
Zee Cine Award for Lifetime achievement (2005)
Lifetime achievement award at PIFF (2007)
Padma Bhushan by Govt. on India (2012)
His dance pattern is his own specialty and people love to copy his style, dialogues, and dance. Apart from the film industry, he also played a role as a "Judge" in popular television show "India's Got Talent" in place of "Sajid Khan" in 2011. His sun sign is Sagittarius. "Suraiya was his favorite singer-actress and he watched her film Dillagi 40 times. To watch this, he walks several times on foot from his hometown Sahnewal to nearest Cinema Hall. He even attended her funeral in 2004.  He is still working ad giving his time towards his personal life. We wish him a healthy life and thank him for his special contribution to the film Industry.