Biography Of Uttar Pradesh's Current Chief Minister Yogi Adityanath Ji:
Yogi Adityanath Ji has become the most popular person in India nowadays. He is an Indian priest cum politician belongs to Bhartiya Janta Party. He is now elected as a Chief Minister of India's most populated state Uttar Pradesh Since 19th march 2017. He always follows the Hindutva religion and always wear peach color clothes like the saint.
Family and Early Life of Yogi Adityanath Ji: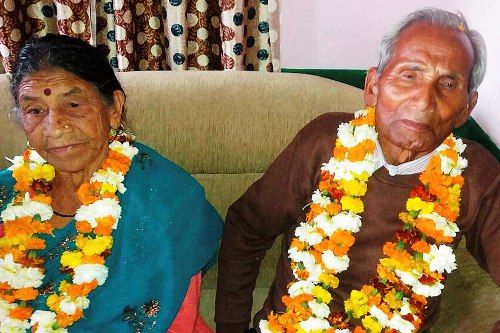 Yogi Adityanath was born on 5th June 1972 in the village of Panchur, Pauri Garhwal, Uttrakhand. His real name was Ajay Mohan Bisht. His father's name is an Anand Singh Bisht and he was a forest ranger and his mother was a housewife named Savitri Devi. He has 3 brothers and 3 sisters. He was the second child among all of them. He did his B.sc from Hemwati Nandan Bahuguna University in Uttrakhand. He always believed in Hindu religion. He left his home at the age of 21 when Ayodhya's ram Temple movement was very active. He joined this movement and impressed by the chief priest of Gorakhnath Math, Mahant Avaidhyanath Ji.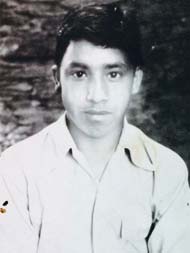 Life Of Adityanath as a disciple:
Yogi Adityanath came in the influence of the Mahant Avaidyanath Ji in 1993 and left his family and his village. He became the disciple of Mahant Avaidyanath Ji. He worked there as a priest and followed his guru. while he often visited his home village and he also established a school there. He became the successor of  Mahant Avaidyanath Ji after his death and became the high priest of Gorakhnath Math on 2nd September2014.
Political Life:
Mahant Avaidhyanath Ji was the BJP party member and was elected as a Lok sabha member. later this In 1996 Yogi Adityanath became the in charge of managing the election campaign for Mahant Avaidyanath.  He started his political career in 1998 and was elected the 12th Loksabha election and became the youngest MP Of Gorakhpur at the age of 26. He has been elected from the same seat for five consecutive terms ( 1998, 1999, 2004, 2009 and 2014). He started his own militant in 1998 named Hindu Yuva Vahini in which youth members are gathered to protect the Hindutva. This millitant was well known for its violent activities in eastUttar Pradeshdesh. Adityanath,s attendance was 77% inLoksabha and participated in 56 debates. He was appointed as a Chief minister of Uttar Pradesh in 2017 when BJP won the assembly election.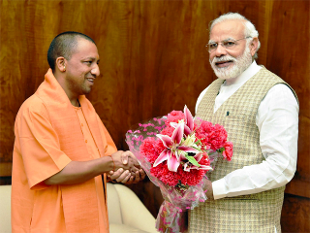 Work as a Chief Minister:
Yogi Adityanath was appointed as a Chief minister of Uttar Pradesh on 19th march 2017. After becoming a chief minister he is doing work more actively. He has shut down all the illegal slaughterhouses in Uttar Pradesh. He ordered police of Uttar Pradesh to prepare Anti Romeo squads to stop the women molestation. He suspended more than 100 corrupt police officer in Uttar Pradesh and ordered to all the Govt employees to work maximum time of 18 hours in a day. He imposed a ban on cow smuggling and ban on tobacco, pan, and smoking in every govt. offices. He pressurized the employees to devote 360 hrs. in a year for Swachcha Bharat Abhiyan. On 4th April 2017  in his cabinet meeting, he decides to free the bank loan on 87 lakh poor farmer amounting approx. $363.53 billion. Let's see what more changes he will do in Uttar Pradesh. He is working very actively in his state.
Controversies:
Adityanath always became a highlight for his speeches and actions. In 2005, he started the movement of purification Drive in which he had convert 1800 Christians to Hinduism in Etah, Uttar Pradesh. He had given a speech also that he would never stop until he turns Uttar Pradesh and India into a Hindu State. His name was always found in Hindu-Muslim Riots in Uttar Pradesh. In 2007, in Muharram procession in Gorakhpur, Hindu and Muslim had some conflicts and a young Hindu name raj Agrahari was wounded and admitted to hospital. However, the district magistrate ordered the yogi Adityanath to keep away from the site as it creates more conflicts. but after the hospitalization of Hindu person, he denied the magistrate and traveled to the site and started a non-violent dharna at this site with a group of followers. By affected his inflammatory speeches, the young group set fire to the nearby Muslim mausoleum. Adityanath broken the curfew also and he was arrested by the local police and charged him for disturbing peace in that area. His arrest became the cause of big riots in Gorakhpur in which many mosques, train coaches, homes, buses, and trains were burnt. local police officers and district Magistrate were transferred and replaced.
In 2010, during the women reservation bill was opposed he said in the reservation should be done to the women as it didn't affect the women basic responsibilities.
His hate speeches always create some issues and became the limelight for social media. In 2015, Yogi Adityanath said that one who opposes Surya Namaskar should leave the country and request to god sun to drowned such people into the sea. In late 2015, in one of his speech he commented that Actor Shahrukh Khan speaks like the Pakistan terrorist Hafiz Saeed and he should leave India and has to be sent to Pakistan. In one of his speech he also said that he wanted to install The shiva statue in every mosque. he compared the Pakistan to satan.  He always criticized Pakistan country and Muslim communities. His militant Hindu Yuva Vahini also had done many violent works and create tension in the state. This militant also worked for the Love Jihad. Yogi has been always in controversies for his speeches and straight forward statements.
Yogi Adityanath's nickname is Yogi and he is an active politician and religious missionary. His zodiac sign is Gemini and he loves animals. his favorite politician is Narendra Modi. As a chief minister, he is doing effective work. May God bless him and help him to improve the current situation of Uttar Pradesh.