Prime Minister Narendra Modi always in a process to make the country corruption free and terror free. The recent announcement made by PM is to abolish the old currency of 500 and 1000 rupees. Along with that, Modi announced that the bank and ATM will remain closed for 9 November  2016. This recent news was announced on the evening of TuesdayI.e, 8 November 2016 and became effective from midnight of the same day.
Why is this announcement made?
People are curious to know about the decision and the reason behind this announcement. Though Modi has not cleared up all the reasons but based on this news, following assumptions can be made like:
To convert the black money into white money.
To stop all the sources of white money
To encourage people to pay their income taxes on regular basis
To make the India terror free as the black money is used for such thing
To encourage payment through cards
To demotivate the neighbour country to spread forged currency notes within India
To end the root cause of corruption
What do we with the old currency?
Nothing will be changed so drastically if the money is earned through the right way. People have to submit their save money at the bank which is the most reliable source. This announcement will be affecting the currency of 500 and 1000 rupees only, yet another currency will be ineffective. People may adapt any of the techniques:
Modi has given 50 days time to change the currency so people may change their old currency  of 500 and 1000 till December 2016. Though one person can change Rs 4000 

within 15 days

 and Rs 4000 for next 15 days through bank, post office while showing his I'd proof.
Cash money can be deposited to bank or saving account which is all safe. One may become liable for income tax yet, he or she will be safe from the legal point of view.
There will be several organisations who will be accepting the old currency until 

10 November 2016

.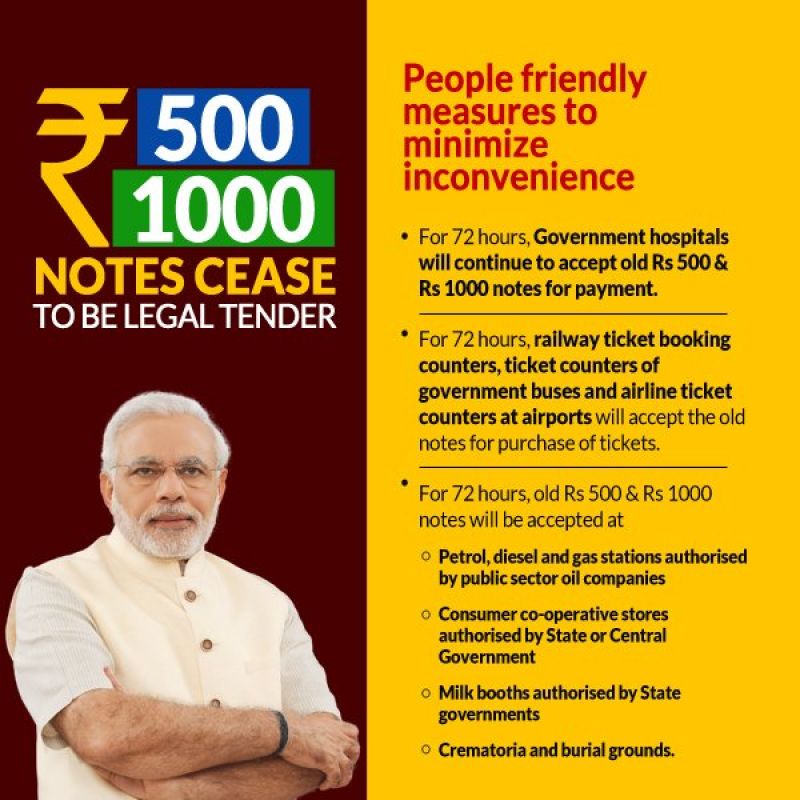 Sudden effects of Modi's announcement
People became panic with such news. As they had to suffer from the lack of currency or had to worry about the hard money they earned. This news even affects the little piggy bank of kids made at home. In continuation with this news,
The ATM will not function for 2 days I.e., till 

10 November 2016

.
Bank will remain closed for one day I.e., 

9 November 2016

 to conduct their own work
Initial withdrawal limit will be Rs 2000 per day up to 

18 Nov 2016

 which can be extended later to Rs 4000.
The transaction can be made through cheques, card, net banking or mobile banking or through the currency of Rs 5, 10, 50, 100 etc.,
Cash withdrawal from a bank account, over the counter will be restricted to Rs 10,000/- subject to an overall limit of Rs 20000 in a week for the first fortnight, I.e., until the end of business hours on November 2016.
 RBI announced issue of new currency of Rs 500 and Rs 2000
Reserve bank of India has announced to issue notes of Rs, 500 and Rs 2000 yet there is no news about the 1000 Rs note. Reserve bank of India also released some FAQ to facilitate the general public about their doubts and to make them the panic fee. The picture of new currency note is given below: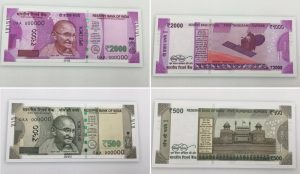 Unique features of new currency released through RBI
With the announcement of Modi, RBI subsequently announced to release the new notes of Rs. 2000 with the new features. These features are listed below:
On the obverse:
The notes will be carrying the image of mahatma Gandhi having right side face

Contains signature of Urjit R Patel, Governor, RBI

Denominational numeral 2000 will be in Devanagari

See-through register with denominational numeral 2000

The base colour will be magenta

The printing year will be 2016

Latent image with denominational numeral 2000
Micro letters 'RBI' and '2000' on the left side of the banknote
Windowed security thread with inscriptions 'भारत', RBI and 2000 on banknotes with colour shift. Colour of the thread changes from green to blue when the note is tilted
Guarantee Clause, Governor's signature with Promise Clause and RBI emblem towards right
Denominational numeral with Rupee Symbol, '2000' in colour changing ink (green to blue) on bottom right
Ashoka Pillar emblem on the right, Mahatma Gandhi portrait and electrotype (2000)  watermarks
Number panel with numerals growing from small to big on the top left side and bottom right side
For the visually-impaired: Intaglio or raised printing of Mahatma Gandhi portrait, Ashoka Pillar emblem, bleed lines and identity mark
Horizontal rectangle with '2000' in raised print on the right
Seven angular bleed lines on left and right side in raised print
On the reverse side:
Year of printing of the note on the left
Swachh Bharat logo with slogan
Language panel towards the centre
Motif of Mangalayan
Denominational numeral २००० in Devnagari
The final feature is that the dimension of the currency note will be 66 mm × 166 mm.