Why Black Suit was banned for Dev Anand? When the movie named "Kala Pani" got hit, Dev Anand was requested or imposed by the court not to wear black dress because girls usually went mad while seeing his adorable look in black dress and girls would jump from the buildings just to see him in black. Girls were not even caring about their lives. Though it was not the fault/ intention of Dev Anand to put the girls' lives in danger but still he had to agree with the court imposition. His charisma was so powerful and influential.
Dev Anand's life story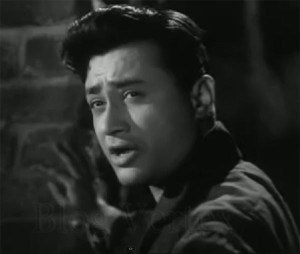 Dev Anand was a famous actor with the charming personality. Apart from being an actor, he was also a Director, Writer and Producer too.  It was not possible to get the name fame so easily. He worked hard in the film industry. He struggled a lot to achieve this success.
Dev Anand was born in 26 September, 1923 in Gurdaspur, Punjab. He was graduated with Arts. He came to Mumbai I early 1940s to make his career having Rs. 30/- with him. He firstly joined military censor's office for salary of Rs.165/- PM and later on, as a clerk in accountancy firm with Rs. 85/-. He got inspired with Mr. Ashok Kumar to perform in Hindi Cinema. He played theater role with his brother and got his first film "Hum Ek Hain" in 1945. After this movie, he got recognition in the fil world and offered with many movies.
His romance life began when he offered movies with Suraiya, a popular actress. While shooting for the movie 'Vidya', he rescued Suraiya from a capsized boat while filming the song 'Kinare kinare chale jayenge'. Then only both of them fell in love with each other but they did not get married due to oppose by Suraiya's maternal grandmother. Dev Anand even proposed Suriaya on the set of JEET movie with a diamond ring.
This break had brought a great change in his life. Suraiya got famous and kept working on hit movies to keep her life busy but Dev Anand has to struggle hard for solo roles to earn his own stardom. He finally got a chance of leading role in ZIDDI and after this movie; he became close friend with Kishore Kumar.
Separation from Suraiya did not stop his life. He got another chance to find his true love while filming for BAAZI  with "Kalpana Karthik". Both of them performed too many film together and got married after the movie TAXI DRIVER.
Awards won by Dev Anand:
There is no counting of the awards won by Dev Anand because of his hard work, charismatic personality, charming nature, wonderful acting etc. The few of the famous awards are as below:
Film fare Award for Best Actor (1959-kala pain & 1967 – Guide)
Certificate of merit for third best feature film Hindi (1966 guide)
Film fare lifetime achievement award (1992)
Bollywood movie award – Special award (2001)
Padma Bhushan (2001)
Dadasaheb Phalke Award (2002)
IIFA Life time Achievement Award (2003)
Star Guild Award for best contribution to Indian cinema (2006)
Stardust Award for lifetime achievement (2009)
Movies Acted or performed by Dev Anand:
No exact numbers can be found for his movies. Some movies got failed in Indian Cinema but many of the movies left a sign of his presence in Indian film World. Though he is not alive any more, yet he is well known for his special contribution in Indian Cinema. His last movie was Charge sheet in 2011 after which he got died in London due to some medical issues. We all know that he is no more in the world, but no one can forget him. Some of the famous movies are as follows:-
Hum ke Hain (1946)
ZIDDI (1948)
Vidya (1948)
BAAZI (1951)
Jaal (1952)
Taxi driver (1954)
Munimji (1955)
House No. 44 (1955)
Funtoosh (1956)
I.D. (1956),
Paying Guest (1957)
Nau Do Gyarah (1957
Kala Pani (1958)
Solva Saal (1958)
Kala Bazaar (1960)
Jaali Note (1960)
Bombai ka Babu (1960)
Hum Dono (1961)
Jab Pyar Kisi Se Hota Hai (1961),
Asli Naqli (1962)
Baat Ek Raat ki (1962)
Tere Ghar ke Samne (1963)
Guide (1965),
Teen Devian (1965)
Payer Mohabbat (1966)
Jewel Thief (1967),
Duniya (1968)
Mahal (1969)
Johnny Mera Naam 1970
Prem Pujari (1970)
Hare Rama Hare Krishna (1971)
Gambler (1971)
Tere Mere Sapne (1971)
Heera Panna (1973)
Chhupa Rustam (1973)
Amir Garib (1974)
Warrant  (1975)
Jaaneman (1976)
Des Pardes (1978)
Lootmaar  (1980)
Swami Dada (1982)
Anand aur Anand (1984)
Hum Naujawan (1985)
Awwal Number (1990)
Sau Crore (1991)
Gangster (1994)
Censor (2001)
Love at Times Square (2003)
Prime Minister (2005)
Charge Sheet (2011)
Dev Anand was a legendary in the film industry. His memories are still live through his songs like:
Pal Bhar k Liye Koi Hame Pyar kar Le
Ye Dil Na hota Bechara
Ek Ghar bnaunga Tere Ghar K samne
Phoolo k Rang se, Dil Ki tarang se
Phoolo ka Taron Ka sabka Kehna Hai
Har fikr ko Dhuyen me Udata Chala Gya
And many more……
Dev Anand Life is an inspiration for us. He had served 6 decades in the film industry and at the age of 88, he finally get retirement from the world after leaving behind beautiful memories in form of movies. This article is just a small dedication in the memory of Dev Anand. We all will miss Dev Anand till the film industry exists.