Madhuri Dixit is the most beautiful and talented actress. She has always been praised for her work in Hindi cinema. She is an amazing dancer too. Her fan following is incredible. She did much struggle to get this position. She is also an India's fourth highest civilian award Padam Sri holder at 2008 by a government of India. Let's talk about her life and career:
Early Life:
Madhuri Dixit was born on 15Th May 1967 in Mumbai, Maharashtra. She was born in the marathi Brahmin family. Her parents Shankar Dixit and Snehlata Dixit always supported her for her career. She has one brother named Ajit Dixit and two sisters named Rupa and Bharati. She had done her schooling from Divine High school and did Microbiology from Mumbai University. She practiced the Kathak dance since the age of three. She is very fond of dancing. She also loves reading.
Film Career: Madhuri Dixit started her career from modelling. She got her first chance from the Rajshri production movie named Abodh in 1984. But it was not well succeed. She also did many consecutive flopped movies named Awara Baap, Mohre, Swati, Hifazat, Uttar Dakshin and manav Hatya. In 1988 She also did two movies named Dayawan and Khatron ke khiladi , but it was not successful commercially. After so many flopped movies she didn't lose her heart and start her hardwork. Finally she got huge recognition from the movie named Tejab in 1988 opposite Anil Kapoor. In which she played the role of Mohini. The song of this movie Ek Do Teen was blockbuster hit. The film earned the highest grossing that year. She received her first nomination for filmfare award for best actress for this movie. In 1989 She did another movie with Anil Kapoor named Ram Lakhan which is other blockbuster hit in her career. She also did Tridev , prem pratigya and parinda in same year. She did many hit movies back to back. her pai with Anil Kapoor was very appreciated. In 1989 she did movie named Dil opposite Amir Khan which also a blockbuster hit movie. In 1992 she did Beta in which a song Dhak Dhak Karne Lga gave her a new name Dhak Dhak Girl. The film also super hit. She also appreciated for the biggest hit film Opposite Sanjay dutt and Jackie Shroff named Khalnayak. in which a dance on the song choli ke peeche kya hai was tremendous.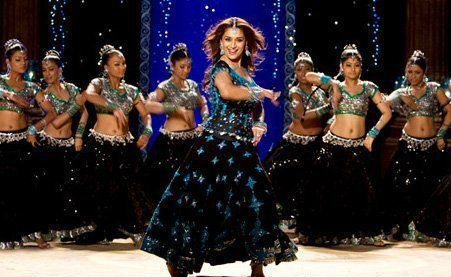 In next year she did HUM Apke Hai Kaun which became the highest earning movie after Sholay(1975). She was offered higher amount than the hero Salman Khan. The movie break all the records and earned 1.35 billion. In 1995 She was seen in RAJA movie with sanjay KApoor. It was also the highest gross earming movie. Later she did Prem Granth , Yarana with Rishi kapoor and Rajkumar movie which is below average movie. Later she came back with Mrityudand, which gaves her much appreciation. In 1997 she was seen in Dil to pagal hai with Shahrukh Khan and Karishma kapoor. The romantic love triangle film proved to be successful. later she did aarzoo and Wazood both was average hit film. She came back with anil kapoor with movie Pukar in 2000. In the same year she also worked in M.F. Hussain movie named Gaja Kamini. M.F. Hussain was really mesmerised by the beauty of Madhuri Dixit that he had seen her movies several times. He also painted her many pictures. he always said Madhuri is the most beautiful lady on the earth.
In 2001 she did Yeh Raste Hai Pyar Ke with Ajay Devgan and Lajja, which is average hits. In 2002 she was seen in Hum Tumhare Hai Sanam and Devdas proved blockbuster hit and she got award Of Filmfare award for best-supporting actress for this film. That also had said that she was pregnant during the movie Devdas and worn 30 Kg weighted lehnga in this movie for a song.
After that, she did a big break from her career and shifted to the USA with her family for a long period of time. She came back in Indian cinema with her movie named Aaja NAchle in 2007. In 2012 she did Dedh Iskiya with Arshad Warsi and NAsiruddin Shah and Gulab Gang with Juhi Chawla. She was also seen in an item song Haye re mera Ghaghra with Ranveer Kapoor in the movie named Yeh jawani hai Deewani.
She did not end her career at this age. She is continuously working for many years. She did many TV shows in which she played as a dance Judge named Nach baliye (Star Plus) and Jhalak Dikhla Ja.
Controversies: She was in controversy for the affair with the actor named Sanjay Dutt for a long time. However, he married to richa Sharma but their relationship is not ended after his marriage. After the arrest of Sanjay Dutt in a case in 1993, she ended up her relationship with him. A rumor of affairs between Madhuri and Anil kapoor was also in controversy. Her kiss with Vinod Khanna in movie Dayawan who is 20 years older than her was also much criticized. A legall action was also done against her for promoting Maggie when the maggie was banned by the Food department of India.
Personal Life: However she was deeply attached with Sanjay Dutt but their relation ship ended in the year 1993. She met with Dr. Sriram Madhav Nene through her brother. Sriram Nene worked as a cardiovascular surgeon in California, USA. They both married on 17th October 1999. The couple has two sons Named Rayan Nene and Arin Nene. She moved to the USA after her marriage and returned to India with her family in 2011.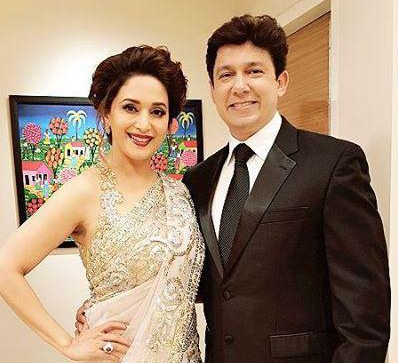 Madhuri Dixit Nene has always been an excellent dancer and she is always practicing dance. She also started an online dance academy " Dance with Madhuri" through which her fans can learn dance movement with her.
She is the only Bollywood actress till date who have been nominated 13 times for FiImfare Award for best actress. She is always appreciated for her work whether in movies or in TV dancing shows. She is also considered by her nicknames like Dhak Dhak Girl and Bubbly. Her smiling face is always loved by her fans. She keeps her so fit that no body can easily believe that she is approx. 50 years age. Really She is an amazing actress of Bollywood.
Her Famous dance on songs: Dhak Dhak Karne laga(Beta), Choli Ke peeche kya hai (KHalnayak), Ek Do Teen (tejaab), Humko AAj kal HAi(Sailab), Bada Dukh Deena(ram Lakhan), Chane Ke Khet Me (Anjam), Mera piya ghr aaya( YArana), Akhiyan Milau(RAja), Didi tera devar Deewana( Hum Aapke Hai Akun), Key Sera Sera with prabhu Deva(pukar), Badi Mushkil baba Bdi Mushkil(LAjja), Aaja nach le ( aaja Nach le), Maar Dala ( Devdas), Haye re mera ghaghra( Item song of Yeh jawani hai deewani).All was her famous song and most of the songs choreographed by Saroj Khan.